Yalli (Kochari, Tanzara), Traditional group dances of Nakhchivan
Azerbaijani folk music is one of the most widely spread branches of Azerbaijan culture, that has gone a long way to develop. Its roots go back to centuries and it is the musical tradition of Azerbaijani people. Speaking of folk music, traditional dances must be mentioned as one of the oldest art genres of Azerbaijani music which have centuries-old history. Etymological research of an ancient Azerbaijani ceremonial dance "Yalli" goes back to prehistoric times.
The history of Azerbaijani folk dance is closely bound to the history of the country because it reflects the people's pride, culture and spirit as well as the traditions and courage. Being Azerbaijan's national dance "Yalli" shows the characteristics of the Azerbaijani nation, its braveness, unanimity, unity and collectiveness. The bravest guys went to fight inspired with the music of "Yalli".
The history of the most-loved Azerbaijani folk dance "Yalli" traces its roots from Stone Age. Drawings chiseled thousands of years ago into the rocks at Gobustan, located in 70 kilometers southwest of Baku, represent old Azerbaijani folk dances, which originally were ceremonial and hunting.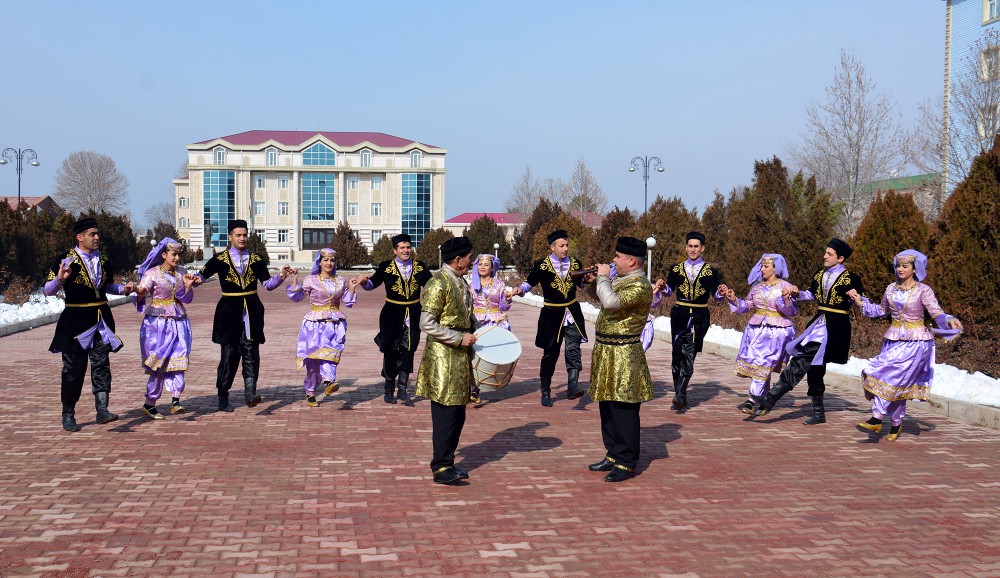 The initial form of "Yalli" was performed around a ceremony bonfire, which was source of heat, light and warm food.
Beginning since early the medieval centuries various types of folk dances began to form.
Azerbaijani folk dances are very colorful from the viewpoint of themes and these types are – labor, ceremony, household, heroism, sport, chorus game (e.g. "Yallı", "Halay") etc. For terms of continuation, richness of the rituals and colorful the marriage ceremony is most important.
"Yalli" can be divided into two parts in terms of choreographic content. The first one is plotted "Yalli", which can be described as "Play-Yalli". Examples of this kind of "Yalli" are "Kochari", "Gazi-Gazi" and "Chopu-Chopu". The second kind of "Yalli" is called "Dance-Yalli". It glorifies certain moods, especially heroism, courage, bravery and youthful enthusiasm. Examples of this kind of "Yalli" are "Done Yallı", "Siyagutu", "Tanzara", "Urfani" and others.
At the same time, "Yalli" can be classified according to the performance composition into 3 kinds: female, male and mixed.
Traditional "Yalli" is accompanied by trio of musical instruments consisting of two horns – "Zurna" (pipe), "Dam Zurna" and one drum "Davul". Being a wind instrument with a specific timbre, "Zurna" always plays the leading role in ensemble.
The basis of all Azerbaijani traditional dances is taken from Azerbaijan's regions. "Yalli" is one of the widely spread dances known in Azerbaijan, especially in Nakhchivan Autonomous Republic and surrounding areas, because it is considered to be one of the first cradles of it. Nakhchivan performance tradition of "Yalli" with its specific genre features has been carried through the centuries.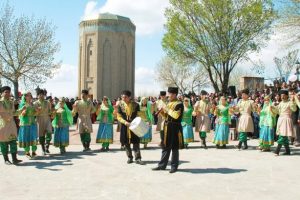 In generally, there are lots of kinds of "Yalli" that are of interest for their variants: "Done Yallı", "Haghishda", "Uchayag Yalli" (Ordubad variant), "Siyagutu", "El Yallisi" (Aghdam variant), "Kochari", "Chingi-Chingi", "Yerevani" "Ikiayag Yalli", "Uchayag Yalli" (Norashen variant), "Galadan Galaya", "Tanzara" (Sharur variant), "Gopu", "Urfani", "Galeyi", "Leyli Khani", "Hoynara", "Guleynara", "Nanuke", "Gazi-Gazi" (Play-Yalli), "Chopu-Chopu", "Chiran-Chiran", "Dordayag" and others. The most widely spread kinds of "Yalli" in Nakhchivan region are "Kochari" and "Tanzara".
"Kochari" – dance is a kind of "Yalli", which has its etymology from the word "kochmek", meaning "to move from one place to another". The "Kochari" dancing, consisting of slow and rapid parts, is of three variants. In the men or women lining up one after another or one woman after one man position, a "yallihead" (holder) holds a stick in his or her hand. This stick isn't to punish the dancers but factually it has a dancing importance.
"Tanzara" – another kind of "Yalli" dance, which is famous in the villages of Charchibogan, Chomakhtur, Dize and other villages of Sharur region. The meaning of this dance is "Gizili tanbatan" (Half golden) in word by word translation and today Tanzara is included to the repertoire of the folklore dancing collectives respectively. The women dancing used to put on all kinds of golden things, dressed luxuriously–including rings, ear-rings, bracelets, chains etc. and those women resembled beauty and sparkling. The name of Tanzara one of the ancient dancings of the Azerbaijan people, is connected with this. Tanzara means- half gilt, half decoration. This dance is performed by the folklore dancing collective of joining their little fingers. Firstly, they step three steps ahead, and strike their left feet on the ground. Then they put their left feet ahead and for a while stand on it, then they make three little steps back and enspeed their actions a bit more in the second part with the actions of the first part.
According to the opinion of Azerbaijan's well-known performer, People's Artist Amina Dilbazi, traditional dances are the best opportunity to introduce our country to the world: "Traditional dances are able to convey all the characteristics of our nation, its identity, history and culture to entire world". She wrote in her memoirs that "Yalli" originates in Nakhchivan, in the land of Sharur. According to scholars, the lifestyle of the Oghuz people is expressed in the epic "Kitabi-Dede Gorgud" and in folk dances. Expressing the past, the present and customs of our people, traditional dances are among the most prominent cultural heritage of Azerbaijan that passed through generations.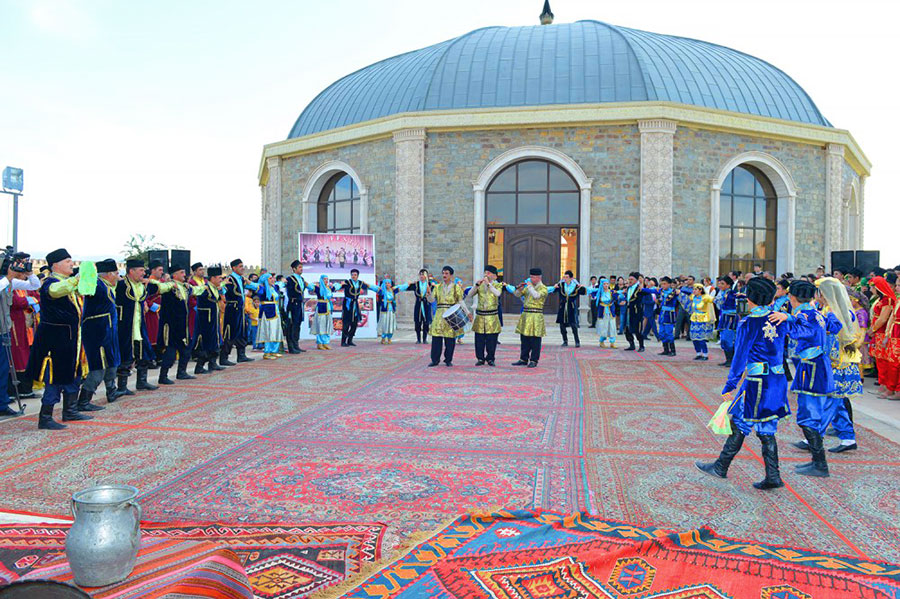 Nakhchivan is a land of ancient history and culture of Azerbaijan. Its antiquity is not measured by the archaeological material culture samples. It also its "Yalli" - a masterpiece of folk dance, which is considered the pearl and the oldest type of Azerbaijani culture. National leader Heydar Aliyev named "Yalli" the "Crown of Nakhchivan".
"Yalli" ("Kochari", "Tanzara"), traditional group dances of Nakhchivan, were included in UNESCO's List of Intangible Cultural Heritage in Need of Urgent Safeguarding by the decision approved at the 13th Session of the UNESCO Intergovernmental Committee for the Safeguarding of the Intangible Cultural Heritage held in Port Luis, the capital of the Republic of Mauritius on November 26-December 1.
The adoption of such important decision for our country was supported by the First Vice President of the Republic of Azerbaijan, the head of the Heydar Aliyev Foundation, UNESCO Goodwill Ambassador Mrs. Mehriban Aliyeva, as well as the joint activities of the Ministry of Foreign Affairs and Culture of the Republic of Azerbaijan as a result of our country's partnership with UNESCO high level of development. Thanks to Mehriban Aliyeva's support, Azerbaijan's mugham, ashug art, Azerbaijan's tar-performing arts, "kamancha", "lavash", "kalagayi" and other cultural values of Azerbaijan were also included in UNESCO's list of intangible cultural heritage.