Art of crafting and playing with Kamancha
The art of crafting and playing with Kamancha ('little bow'), a bowed string instrument, has existed for over 1,000 years. In the Republic of Azerbaijan it constitutes a major element of classical and folkloric music, and performances occupy a central place in a wide number of social and cultural gatherings.
Musical instruments, which are the national heritage of Azerbaijani people, are rich and diverse. Most of them, created in ancient times, being improved and have reached our days.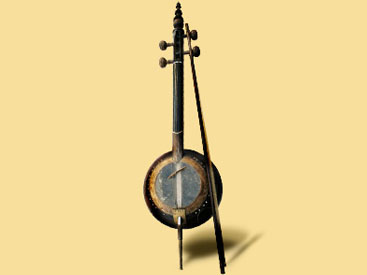 Since the 12th century such well-known personalities as Nizami Ganjavi, famous musicologist and composer Abdulgadir Maragi, and great Uzbek poet Alisher Navoi, as well as Muhammad Fizuli mentioned this ancient instrument in their works.
Kamancha reached the greatest popularity in the 16th-17th centuries. The instrument itself consists of a round body made of walnut wood, a wide neck and connecting them, passing inside the body, a metal rod. In ancient times, the instrument consisted of one string, then two more strings were added, the modern kamancha, however, consists of four strings.
Kamancha is an indispensable tool in ensembles of professional traditional music of the East - Azerbaijani mugham. It is also used as a solo instrument. Instrumental plays, folk songs, and mugams are performed on this instrument.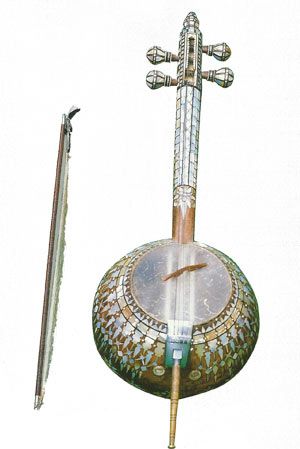 Contemporary practitioners mainly use a four-stringed Kamancha comprising a body and bow made with horsehair and players perform either individually or as part of orchestras. Bearers and practitioners consist of craftspeople, amateur or professional players, and teachers and students of the element. Kamancha is an essential part of musical culture in Azerbaijan and while crafting the instrument represents a direct source of earning a living, craftspeople also perceive the art as a strong part of the intangible cultural heritage of their communities. Through their music, performers convey many themes, from the mythological to the gnostic and the comic. Today, knowledge of performing and crafting Kamancha is transmitted both within families and in State-sponsored musical institutions and schools. Knowledge about the importance of the music in promoting cultural identity is transmitted from generation to generation in all strata of society in both countries.
"Art of crafting and playing with Kamancha", presented jointly by Azerbaijan and Iran, was inscribed on the Representative List of the Intangible Cultural Heritage of Humanity of UNESCO at the 12th session of the Intergovernmental Committee for the Safeguarding of the Intangible Cultural Heritage held on Jeju Island (Republic of Korea) from 4 to 9 December.