Gulustan Mausoleum 
Gulustan mausoleum is an architectural monument of the Middle Ages situated near the Gulustan village, Julfa region. The mausoleum built under the influence of Momuna Khatun mausoleum at the beginning of the 13th century is included to the tower shaped mausoleums group of Azerbaijan. The 12 faced body of the mausoleum was built of red sand stones, but its rostrum with original structure (corners cut cubic formed) was built of hewed stones. Gulustan mausoleum (mentioned as "Kesik Gunbez" in medieval sources) has a special place among other medieval architectural monuments of Azerbaijan as it differs from them in its architecture-constructive structure.
The vault of Gulustan mausoleum is situated on the surface part which is called platform. The platform has a shape of frustum-pyramid from outside, but the cylinder from inside. The frustum-pyramid which is like a square in plan turns to a Dodecagon upwards. There is an upper chamber with twelve sides on it. The mausoleum surfaces were decorated with carved geometric ornaments and decorative arches. As in other mausoleums of Nakhchivan architectural school, the inside of niches of Gulustan mausoleum is covered with delicate geometric ornaments. The architect has placed the various formed geometric ornaments on the surface of the mausoleum so that when one looks at one side, he can see different ornaments on adjacent sides.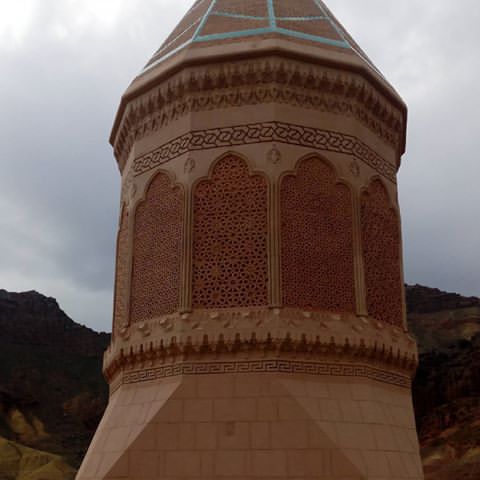 The mausoleums built with the same architectural method of Gulustan mausoleum are widespread not only in the regions of Azerbaijan, but also in the Anadolu region of Turkey. Gulustan mausoleum has also a link with the other monuments situated in the surrounding areas. The monuments around the mausoleum are included in one archeological complex. The architectural style of the mausoleum is like the monuments of the Seljuk's period, but the geometric ornaments are like the monuments of Ajami architectural school. Considering the historical and cultural importance of the area where the mausoleum and monument is located, "Gulustan" Historical-Cultural Reserve was established here. The reserve is situated on the left bank of Araz River.
As a part of mausoleums of Nakhchivan, Gulustan mausoleum was inscribed on the UNESCO World Heritage Tentative List in Need of Urgent Safeguarding on September 30, 1998.
Gulustan mausoleum was restored according to the decree "On restoration and investigation of Gulustan mausoleum" signed by the Chairman of Supreme Assembly of Nakhchivan Autonomous Republic, on October 7, 2015.